Committed
Quality
We are committed to Tourist Quality
Casa das Xacias has been committed to quality since its opening, obtaining different quality certifications: Tourism Quality Commitment (2008), Q Tourism (2014), Galicia Quality (2017).
Currently, in such a changing environment, we understand that the way in which Casa das Xacias can certify its quality, in line with its sustainability policy, is by participating in the project to improve the quality of tourist destinations promoted by the Secretary of State of Tourism (SETUR), a program of the s. XXI with a focus on continuous improvement and an attitude of recovery and enhancement of the resources of Ribeira Sacra.
Casa das Xacias joined the SICTED Program (Comprehensive System of Spanish Tourism Quality in Destinations) in August 2021, and is one of the 33 distinguished establishments in the 2020/2021 period in Ribeira Sacra.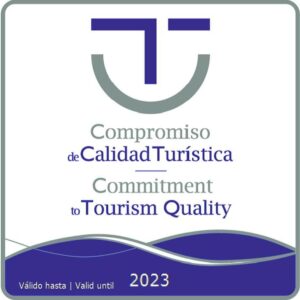 With this membership, Casa das Xacias is committed to offering the best service to its customers and giving them the opportunity, together with the other member establishments, to enjoy authentic experiences with a homogeneous quality service, which in turn allows them to live personalized experiences. and unique during your stay.
Where you can find us
Location